Medicine and tourism are getting even closer to each other at Astana Travel Expo 2022 exhibition
From October 5 to 7, Nur-Sultan will host the 16th Kazakhstan International Tourism Exhibition "Otdykh", which begins its work under a new brand - Astana Travel Expo 2022.
The exposition will present the topic "Therapeutic and medical tourism". Every year, medical tourism in Kazakhstan is becoming an increasingly well-formed product, with a high professional presentation, and a popular and fast-growing direction for travel agencies.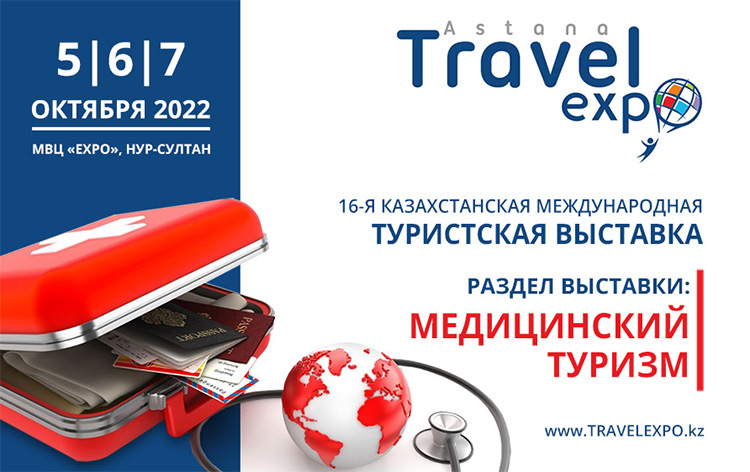 Every year, medical tourists from oxer 45 countries of the world come to the clinics of Kazakhstan, among which 90% of foreign visitors are citizens of the CIS countries, such as Kyrgyzstan, Russia, Tajikistan and Uzbekistan. The remaining 10% are citizens of China, Turkey, Iran and others. Therefore, Kazakhstan is focused on promoting medical services to the target market of border countries, as the main source of potential customers. K.-Zh. Tokayev, the President of Kazakhstan, in his speech noted that Kazakhstan is becoming the center of medical tourism in Central Asia.
As the analysis of medical tourism data in Kazakhstan showed, the main flow of tourists is aimed at receiving cardiosurgical, neurosurgical, dental care, joint prosthetics, organ transplantation, and IVF. As Daniyel Serzhanuly, the Managing Director of Kazakh Tourism, noted: "In Kazakhstan, at least four potential points for the development of medical tourism are Almaty, Nur-Sultan, Shymkent and Ust-Kamenogorsk cities. Each of these directions can be combined with grand routes in the Almaty region, Saryarka, the Great Silk Road and Altai".
It should be noted that medical tourism is a trend in the sphere and international tourism. Citizens of Kazakhstan are happy to use the services of travel agencies, purchasing medical and healthful tours. The development of this segment is proceeding independently of the main part of the tourism industry, and now business and the state want to establish interaction between two industries: medical and tourism industries.
This section of the Astana Travel Expo 2022 exhibition is designed to demonstrate the latest achievements in the treatment and rehabilitation of the population in the best clinics, sanatoriums and resorts in the world.
"Therapeutic and Medical Tourism" is a platform for dialogue between representatives of the sanatorium-resort industry and participants in the tourism market, the exchange of unique experience between medical tourism specialists, attending physicians and direct clients.
Visitors to the exhibition will be able to get acquainted with the offers and specifics of work in the segment of medical tourism and treatment abroad.
For specialized travel agencies, representatives of insurance companies, as well as practicing physicians of various specializations, the topic "Therapeutic and Medical Tourism" is an opportunity to establish new and consolidate existing business contacts with foreign and local medical institutions, expand cooperation with existing partners, communicate directly with the target audience.
You can find out all the additional information and learn more about the list of participants of this section on the website: https://travelexpo.kz/