Kazakhstan Establishes Visa-Free Regime for 10 Countries
ASTANA – Kazakh President Nursultan Nazarbayev announced on June 12 that Kazakhstan is about to establish a visa-free regime for citizens of 10 countries.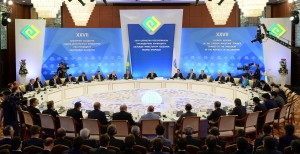 The announcement came during his speech to the Foreign Investors' Council at the Borovoye Lake resort.
Thevisa-free regime will be in force between July 15, 2014 and July 15, 2015and apply to citizens ofthe United States, the United Kingdom of Great Britain and Northern Ireland, the Federal Republic of Germany, France, Italy, Malaysia, the Kingdom of the Netherlands, the United Arab Emirates, the Republic of Korea and Japan. These are the countries that have either invested the most in Kazakhstan or have the potential investment planned that is the most considerable.
During this one-year period, citizens of these 10 countries holding valid diplomatic, official and national passports can enter, exit and transit through the territory of Kazakhstan on multiple occasions without a visa for up to 15 calendar days at a time from the moment of crossing the state border.
If there is a demonstrable reason that citizens from one of these 10 countries need to stay in Kazakhstan longer than 15 days, they will have to obtain a business visa from the Ministry of Internal Affairs or an investor visa from the Ministry of Foreign Affairs, depending on the amount of time they need to spend in Kazakhstan and the type of activities they are engaged in.
Officials will decide after the initial one-year period if they wantto continue the visa-free regime which is now introduced in a pilot mode. This initiative aims to strengthen Kazakhstan's bilateral partnerships as well as create favourableconditions for foreign investors and tourists during their stay in Kazakhstan. The move will allow visitors of the 10 countries to come to Kazakhstan without a visa and visit the country's historic, natural and tourism attractions as well as learn aboutKazakh culture and establish business contacts.
"This is a special step by our country that aims to facilitate cooperation with other countries, attract investment and createfavourableconditions for international travel on the eve of the international specialisedexhibition EXPO 2017 in Astana," said First Deputy Minister of Foreign Affairs of Kazakhstan and National Commissioner for EXPO 2017 Rapil Zhoshybayev at a specially arranged meeting with ambassadors and consuls of the countries accredited in Kazakhstan on June 13.
Though Kazakhstan unilaterally eased visa restrictions for these countries, Kazakhstan will continue to negotiate with those and other countries to ease visa requirements for citizens of Kazakhstan.
"In the future, Kazakhstan will pay special attention to the procedure and the level of difficulty in obtaining visas to every single country while expanding the list of visa-free countries and ofvisa exemption, especially for those countries that create favourableconditions for entry for citizens of Kazakhstan," stressed Zhoshybayev.
Already, Kazakhstan has a simplified visa regime for short-term visits by citizens of 48 countries, including the 34 countries of the Organisation for Economic Cooperation and Development (OECD).
It is expected that detailed new rules and procedures for travel to Kazakhstan by the citizens of the ten countries for whom visa-travel regimes will be introduced will be made public within a few weeks.