M. Ashimbayev: Opening of Embassy of Kuwait in Kazakhstan will help to strengthen relations between nations
ASTANA. KAZINFORM - Majilis deputy, head of the committee for foreign affairs, defense and security Maulen Ashimbayev met with Extraordinary and Plenipotentiary Ambassador of Kuwait to Kazakhstan Tareq Abdullah Al-Faraj.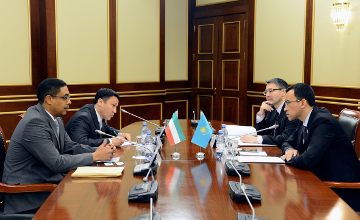 M. Ashimbayev congratulated the Ambassador on opening of the Embassy of Kuwait in Kazakhstan and expressed his confidence that it would help to strengthen political, economic and cultural and humanitarian relations between the nations of Kazakhstan and Kuwait.
The deputy also noted that the Islamic world and Muslim countries and Kuwait in particular are among top priorities in foreign affairs of Kazakhstan, the press service of the Majilis informs.
M. Ashimbayev thanked Kuwaiti side for support of the initiatives of Kazakhstan within the OIC and expressed gratitude for the support of the candidature of Kazakhstan for the non-permanent members of the Security Council of the UN for 2017-2018.
T. Abdullah, in turn, highly praised the work of parliamentarians on creation of the legal framework for development of the economic relations between Kazakhstan and Kuwait.